UBL Tongue cartoning machine
Product Detail
Product Tags
UBL Factory Automatic Cartoning Machine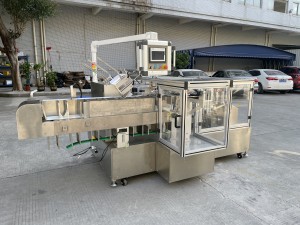 Applied range:
1.It is mainly suitable for paper boxes made of corrugated paper, white board paper, gray cardboard and other packaging materials.
2.It is widely used in carton packaging in different industries such as digital products, cosmetics, knitwear, food, toys, fruits, daily necessities, and medicines.
Middle size tongue cartoning machine

Type

Middle size Tongue cartoning machine

Speed

30~60 boxes /min

L:220-120,W:170-50,H:120-40 mm

When the height and width of the box are the same, opening the box is risky

350-400 g of white cardboard, the carton indentation is not less than 0.4mm,With pre-folding effect, ear pages and short pages need to be chamfered
Function introduction of cartoning machine:
1-Automatic cartoning machine is a machine that can integrate the functions of automatic carton opening, cartoning, folding and sealing. The design structure is compact, the operation is simple, the occupied area is small, and the transportation cost is low;
2-The self-developed organization of Huanlian Company is the most advanced structure in the industry, with easy adjustment of length, width and height, and a scale display. When switching between boxes of different sizes, debugging is simple, saving debugging time;
3- The structure of the equipment design has independent protective devices to ensure easy operation and ensure the safety of operators. Transmission and
friction parts are strictly implemented in accordance with the standards, with less later wear and less replacement of parts.
4- The equipment adopts Siemens PLC and touch screen control system, as well as electrical configuration of well-known brands in the industry, and glue
spraying device to ensure stable performance. The touch screen displays the boxing speed, quantity, automatic alarm for lack of cartons, non-opening of the
cartons without products, failure reasons and other parameters.
5-The whole machine adopts 304 stainless steel structure, which is suitable for medicine, food, daily chemical, electronics, hardware and other industries;
6- It can add automatic material sorting and feeding device in the front part of the equipment; the equipment can add functions such as inn
7- The front section can be connected to a pillow packaging machine; a vertical packaging machine; the back end can be connected to an automatic labeling
machine, automatic coding machine, weighing detection and rejection, automatic boxing and other devices.
8-Widely used: masks, gloves, biscuits, bagged milk powder, tea bags, egg rolls, lotions, lotions, lipsticks, toys, stationery, auto parts, lamps, hardware, and other small products are automatically boxed.

---
Previous:
Thin clothes folding packing machine
---
Write your message here and send it to us
Related products
TYPE: Labeling Machine, Bottle Labeler,packaging Machine MATERIAL: Stainless Steel LABEL SPEED: Step:30-120pcs/min Servo:40-150 Pcs/min APPLICABLE: Square Bottle, Wine, Beverage, Can, Jar, Water Bottle Etc LABELING ACCURACY: 0.5 POWER: Step:1600w Servo:2100w Basic Application UBL-T-500 Applicable to single side and double side labeling of flat bottles, round bottles and square bottles, such as shampoo flat bottles,flat bottles of lubricating oil, round bottles of ...

APPLICABLE: Box, Carton ,Plastic Bag Etc MACHINE SIZE: 3500*1000*1400mm DRIVEN TYPE: Electric VOLTAGE: 110v/220v USAGE: Adhesive Labeling Machine TYPE: Packaging Machine, Carton Labeling Machine Basic Application UBL-T-305 This product specific to large cartons or large cardboard adhesive for development, With two label heads, Can put two same labels or different labels on front and back at the same time. Can closed unused labeler head and put up single label. Appli...

LABEL SIZE: Length:6-250mmWidth:20-160mm APPLICABE DIMENSIONS: Length: 40-400mmWidth: 40-200mm Height: 0.2-150mm POWER: 220V/50HZ BUSINESS TYPE: Supplier, Factory, Manufacture MATERIAL: Stainless Steel LABEL SPEED: 40-150pcs/min DRIVEN TYPE: Electric AUTOMATIC GRADE: Automatic Basic Application UBL-T-300 Function introduction: Suitable for automatic labeling of flat products. Such as Bottle caps, wipes cover, lying square bottles, mobile phone cases, colo...